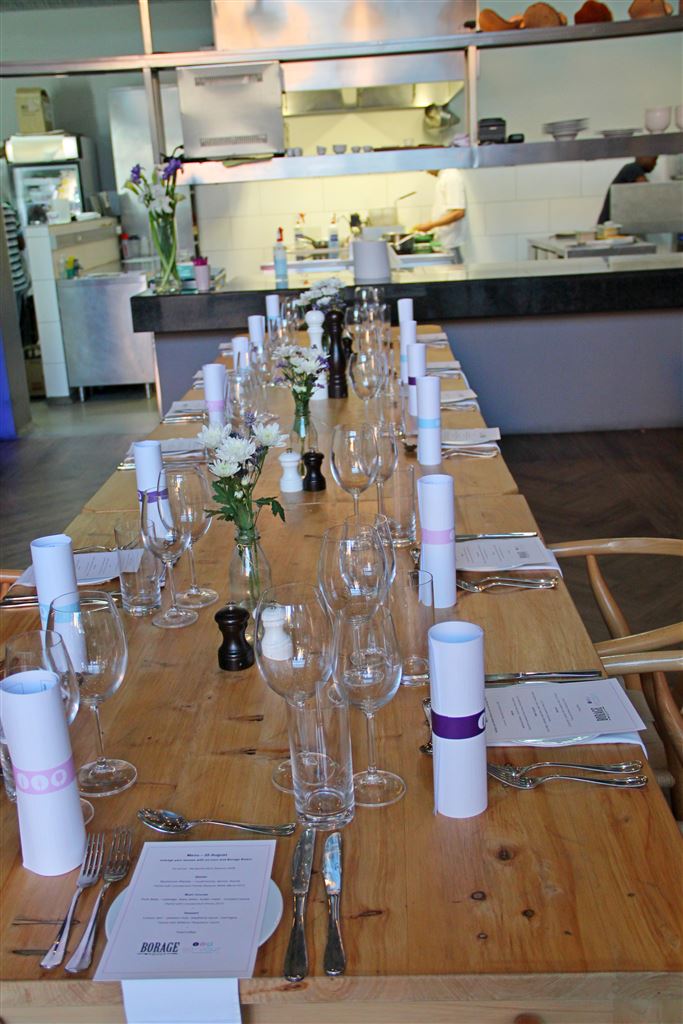 There's a quote which says … "Eating is a necessity but cooking is an art"
What I have discovered in my journey of food is that there are many different types of Cooks. There are Cooks who cook because they have to cook, there are those who love to cook but just don't have enough time to indulge in it, and then there are those Cooks who cook at any possible opportunity …..
Each one of us has a different relationship with food and cooking but what is pretty universal is that we are all looking for new ideas, for handy tips, quick and easy ways of doing things and well just some good old inspiration.
Although traditional  recipe books and more recently the internet are a good source – nothing beats being able to watch and listen …
So to this end, a few weeks ago sa-vour organized a demo with Chef Frank Marks at Borage Bistro on the Foreshore.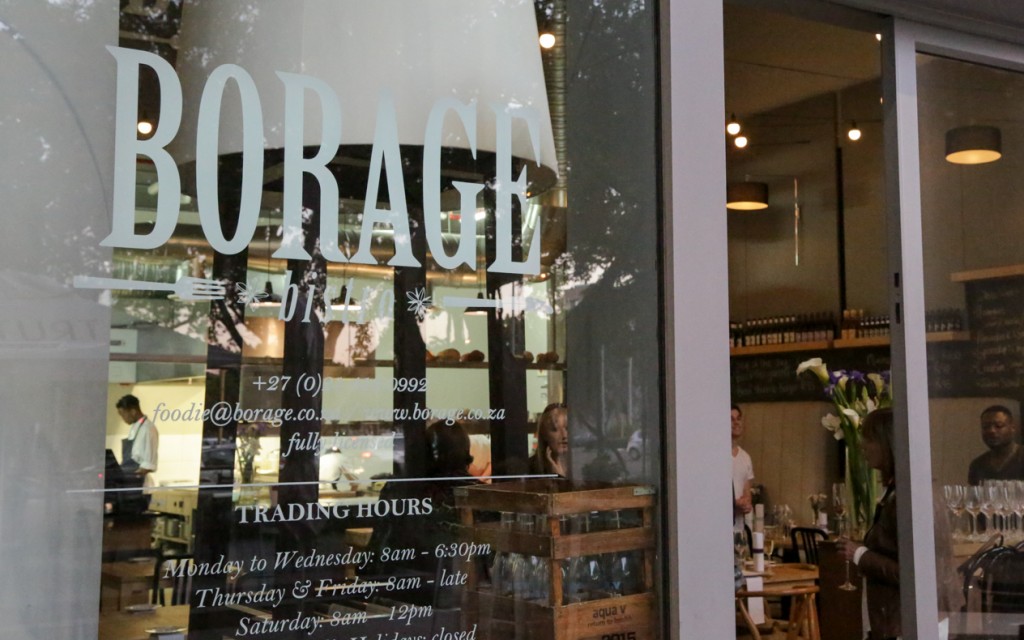 Frank has a great track record so we were in for a treat…. He harnessed his culinary skills at Silwood Cooking School, after which he worked at La Colombe for 2 years, followed by stint at The Test Kitchen under the guidance of Luke Dale-Roberts.  Thereafter he went to London to work for Heston Blumenthal at The Fat Duck and at Dinner By Heston.  Frank then returned to South Africa to work for the Pot Luck Club and The Test Kitchen before opening his own restaurant, Borage.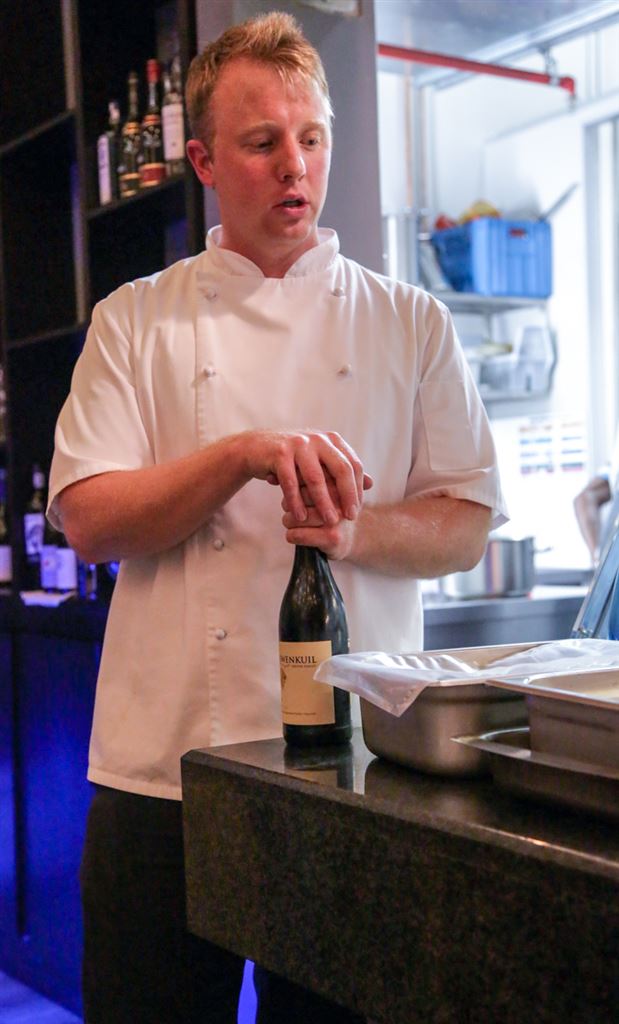 This demo was a first at the restaurant, but Frank and his team worked willingly with us and the menu was planned, invitations sent and we were ready to cook…. Kick off was 6, so the city was starting to quieten down yet there was still a buzz. It was a gorgeous late winter's evening with lots of beautiful light.. The Borage venue is fabulous …high ceilings, plenty of glass to let  either the sunshine or the City lights in, simple but elegant décor …. Two long tables had been set with lovely purple and white floral arrangements , elegant glassware and  crisp white napkins. Printed menus and copies of the evening's recipes completed the look .
On arrival, guests were greeted by the friendly staff with a choice of a glass of ice cold bubbly or rose. The MCC was courtesy of Anne Cointreau of Morgenhof. . It was the  Morgenhof Brut Reserve 2006 which is a Chardonnay Pinot Noir blend. It was delicious and according to a number of the guests as close to French champagne as one could get.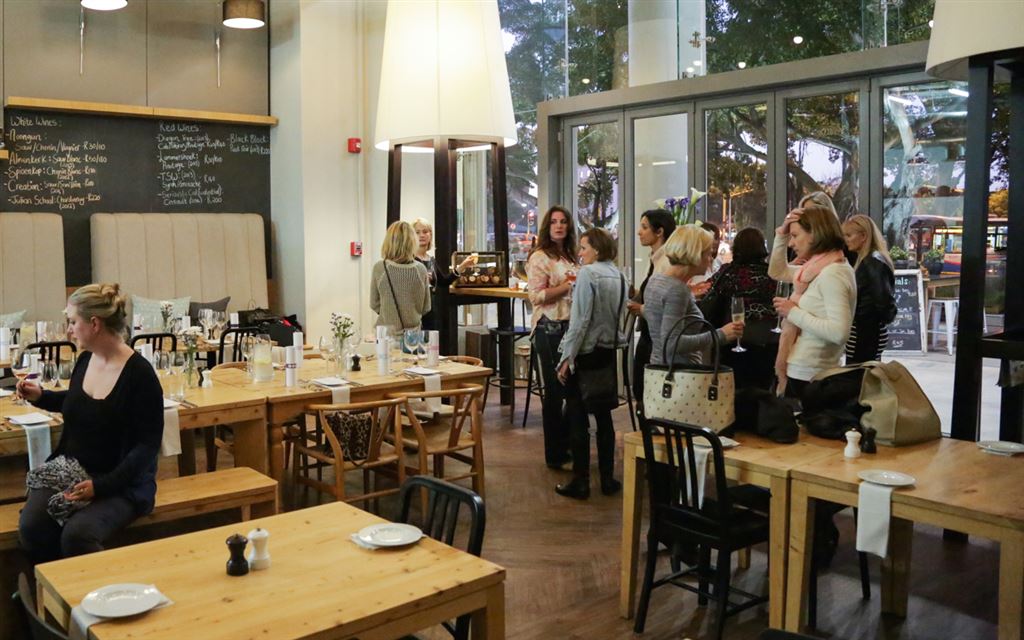 With a glass in hand it was down to the business of the evening … cooking and eating.
The first dish to be demo'd was a mushroom risotto. … There is something both comforting yet indulgent about a risotto and it's one of my favourite dishes both to make at home or when I eat out.  Although I must say I am cautious about ordering a risotto in a restaurant, as one can frequently be disappointed.  . The trick of course is in the homemade mushroom stock but if you don't have the time or the patience there are good store bought options. Frank's method does not follow the traditional and lengthy method of adding stock spoonful by spoonful ; rather he adds the stock all at once and reduces it down…. And the result was delicious. Frank's risotto certainly did not disappoint and I would most certainly order it at Borage.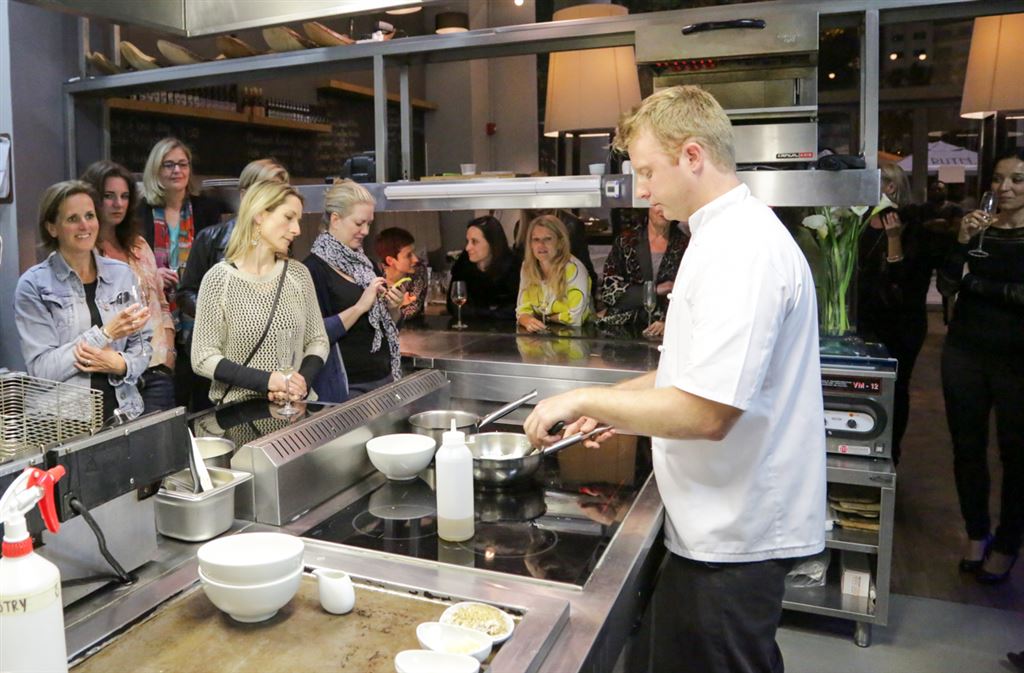 There was a fair amount of  debate about the consistency of  risotto … chewy vs soft ….. Personally I loved  Frank's al dente version (although according to him even this would have been too soft for Heston!) .The colour was beautiful and the foam just finished it off … YUM!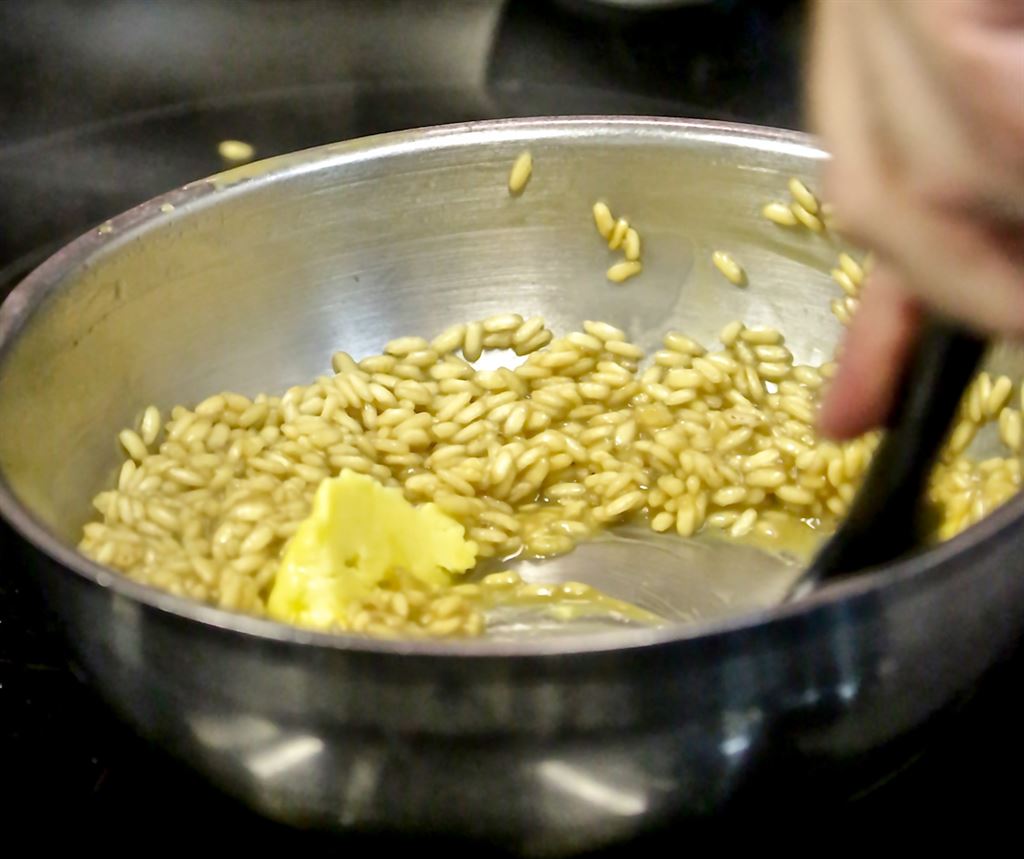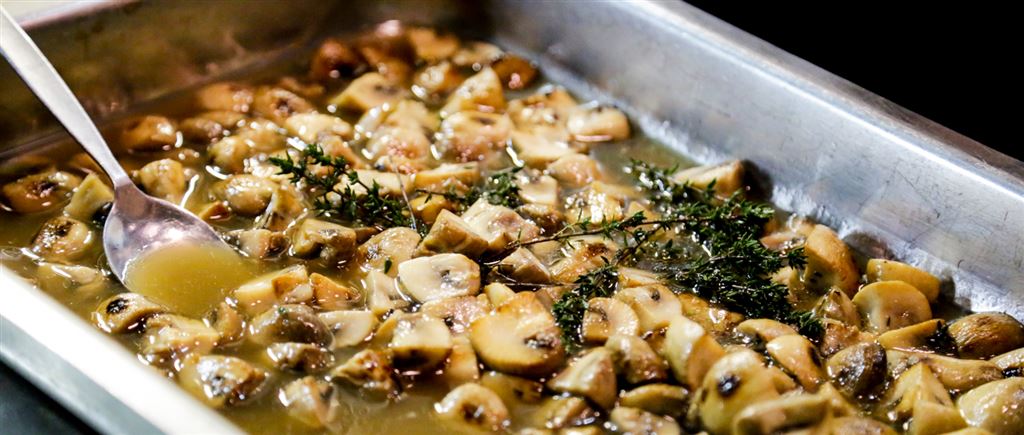 Mushroom Risotto recipe – Courtesy Frank Marks (Borage)
Ingredients:
For the Mushroom Stock:
2kg Washed button mushrooms
500g Sliced shitake mushrooms
500g Peeled and sliced brown onions
20g Peeled and sliced garlic
200g Olive oil
500g Ruby Port
2kg Vegetable stock
1kg Water
20g Thyme
5g Black Peppercorns
For the Acidulated Butter:
200g Sliced onions
300g White wine vinegar
300g Dry white wine
500g unsalted butter
For the Risotto:
60g Extra virgin Olive oil
400g Carnaroli Rice
100g White Wine
1kg Mushroom Stock
80g Mascarpone cheese
40g Reggiano Parmesan
10g Whipped cream
For the foam:
200g Whole Milk
5g Lemon zest
10g Fresh Thyme
3g Soy lecithin
2g Table salt
 Method:
Making the stock:
Heat up a big stock pot. Add the olive oil.
Add the button mushrooms in batches and fry until golden brown.
Add the onions and sweat till just soft. Add the garlic and continue to sweat for a further 2 minutes. Add the shitake mushrooms and continue to sweat for a further 2 minutes.
Add the browned button mushrooms, followed by the Port.
Reduce by half.
Add the Vegetable stock and the thyme.
Close the lid, bring to full pressure and cook under full pressure for 1 hour.
Depressurize and strain the liquid through a chinois, allowing the liquid from the mushrooms to drip through a colander.
Strain through a superbag and blast chill till cold.
Remove the oil and reserve.
 Making the acidulated butter:
Combine the onions, vinegar and wine in a pot and reduce the mixture down to 150g on a medium-high heat.
Whisk in the butter, cover and leave to infuse for 15 minutes.
Strain through a chinois and leave in the fridge to set.
Making the risotto:
Heat the Mushroom stock to a light simmer and hold it there.
Heat the oil in a pot. Add the rice and toast on a low heat until the olive oil smell disappears. Increase the heat to medium and continue to toast the rice until it starts to give of a nutty smell.
Increase the heat to medium high and add the wine. Reduce to a glaze. Then add ¾ of the simmering stock and reduce down, stirring often.
Check the consistency of the rice. It should be al dente. Add more stock if needed, otherwise work in 150g of the acidulated butter, followed by 100g Mascarpone and 50g Reggiano parmesan.
Correct seasoning and fold in the whipped cream. Serve immediately.
Making the foam:
Heat the milk to 75ºC
Remove from the heat; add the thyme and lemon zest.
Cover and leave to infuse for 20 minutes.
Strain through a chinois, add the salt and lecithin and blend till mixed.
Strain through a chinois again.
To order, heat back to 70ºC and blend until a strong foam forms.
The risotto was paired with a 2012 Leeuwenkuil Family Reserve White Blend. This label was new to me but was I impressed! The White Blend comprised 50% Chenin and four other varietals and it paired beautifully with the Risotto.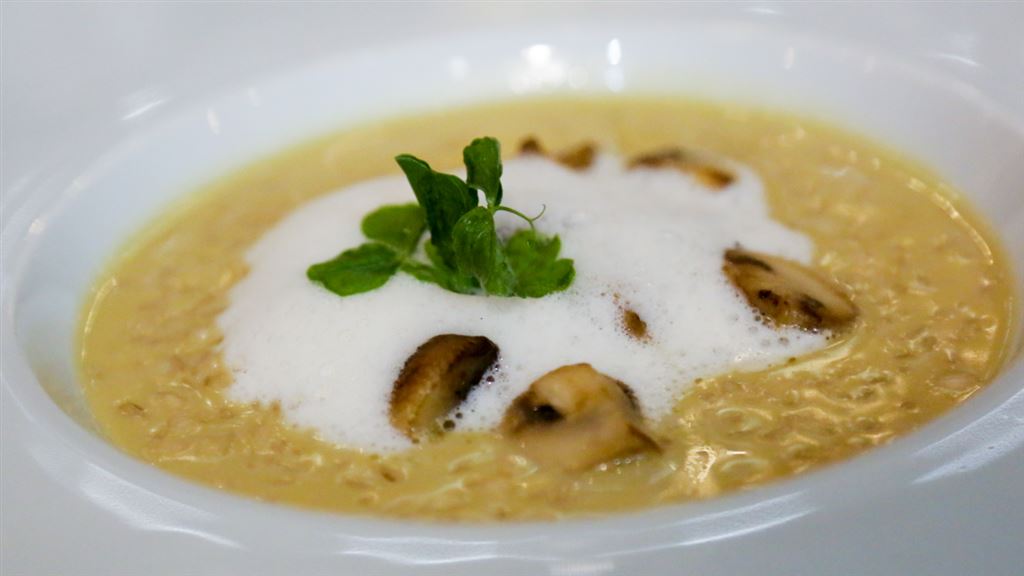 Leeuwenkuil is a family run business with its origin in the Swartland. They are not open to the public but their wines are sold through Wine Cellar. I am definitely going to try and get my hands on them  as they are not only delicious but  good value for money  They also have a Heritage label which is their premium range .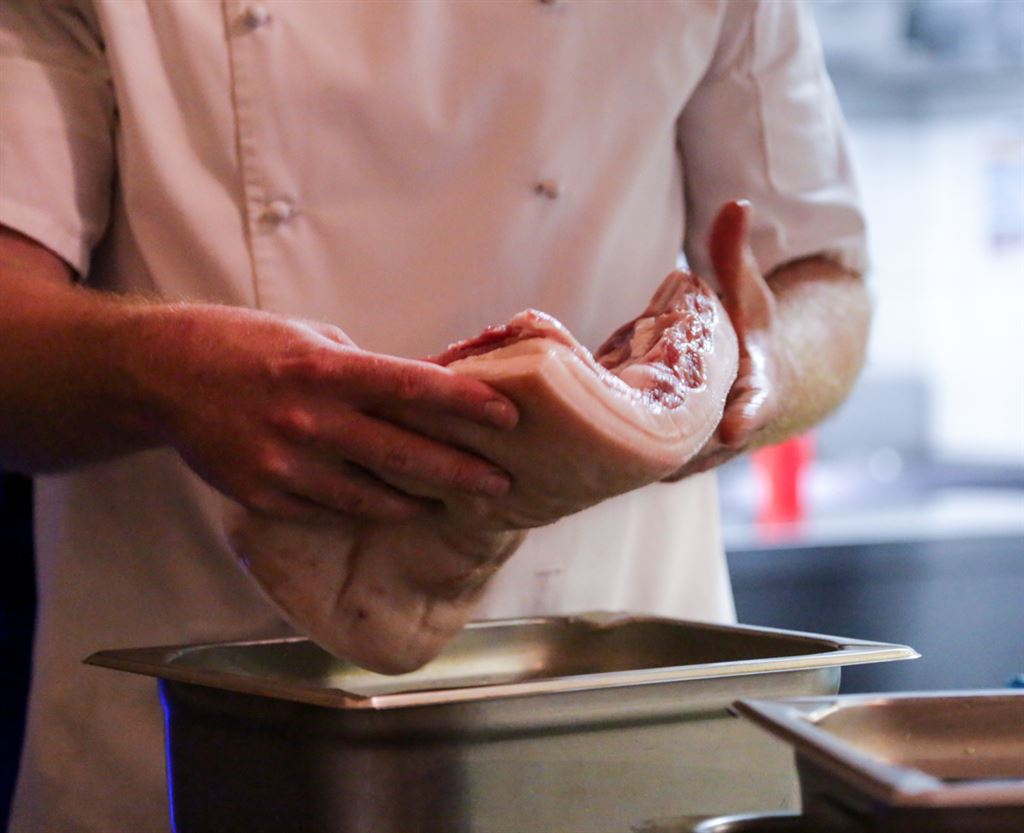 Next up on the menu was Pork Belly (another favourite of mine). Borage only uses free range pork from farms in Paarl and Stellenbosch.  The guests gathered around Frank again and he explained the lengthy preparation of this dish.  One needs a lot of time and patience to make his version – 24 hours in brine ….30 hours in a 60 degree water bath…and then some.   I think I may just indulge in this version at the restaurant!
It was interesting nevertheless to see how it was done and the result was melt in the mouth delicious and beautifully presented with cabbage, baby leeks, butter mash and a mustard sauce.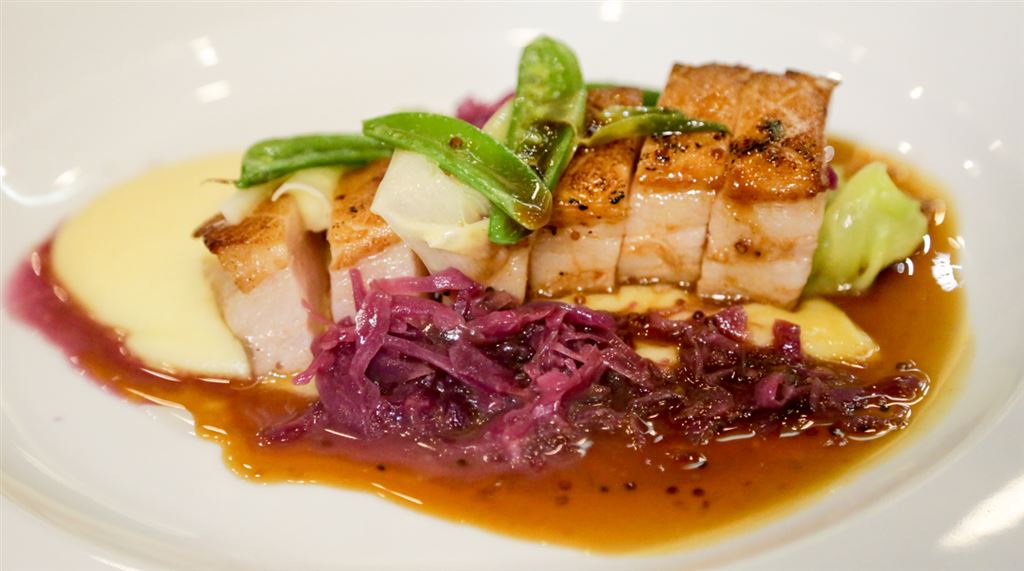 The main course was paired with a Leeuwenkuil 2013 Shiraz … which was delicious and complemented the pork belly perfectly.  On doing some research I discovered that Decanter  scored it 92 points out of 100.
By now the noise levels had risen considerably, but all were keen to see Frank demo the dessert so stopped their conversations and gave him their attention. I had never been a lemon tart fan until I went on a cooking holiday to France … and since then if it's on the menu I am sold. I also often make it as a dessert as it can be prepared ahead, and suits those with a very sweet tooth and also those who are not big dessert fans. It's a relatively simple dessert to make but one has to get the pastry just right … don't overwork it and then bake it blind. Frank's secret to his silky smooth filling is straining it through a chinois.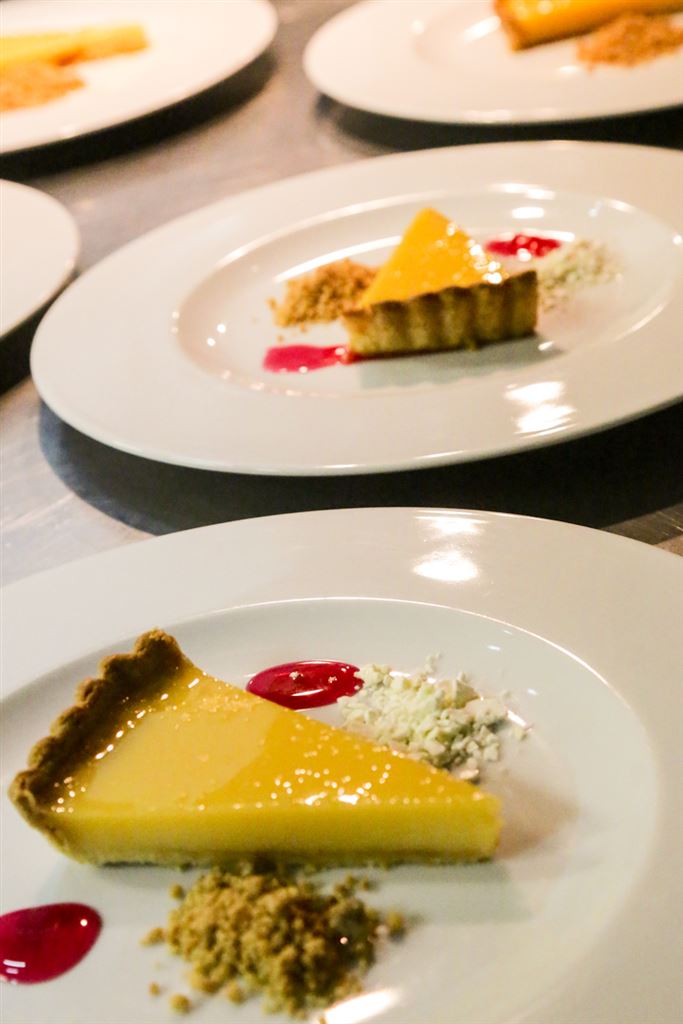 The lemon tart was served with passion fruit, raspberry liquor and meringue. It was paired with a Wilderer Raspberry liquor … which whilst pretty in colour was a little strong for my liking. Will stick to the dessert wines me thinks!
Lemon tart recipe – Courtesy Frank Marks (Borage)
Ingredients:
For the Base:
250g Cake flour
1g salt
7g Sifted icing sugar
1 egg yolk
15 – 30g water
150g butter – cool but malleable
 For the Filling:
450g Whole egg
400g Caster Sugar
120g Lemon juice
10g Lemon Zest
5g Table salt
250g Fresh Cream
Method:
To make the pastry:
Sift flour, salt and icing sugar together and work in softened butter, between fingers and thumbs until the mixture is the consistency of fine breadcrumbs.
Stir 15ml of the water into the beaten egg yolk and tip it into the flour.
Work the mixture into stiff dough, adding as much as is needed of the rest of the water.
Leave the paste to rest in a cool place for at least 30 minutes.
Roll out pastry to 6mm thick. Fill quiche pan and trim the edges.
Prick the base, place piece of greaseproof paper into pastry case and fill with rice or beans. Then bake in a hot oven at 200°C for 15 minutes.
Remove the beans and greaseproof and continue to bake till the pastry is just cooked.
Take out and allow to cool.
To make the tart:
Whisk eggs, sugar, salt and zest together, making sure not to incorporate too much air.
Stir in the lemon juice followed by the cream.
Strain through a chinois and then remove the foam from the surface.
Preheat the oven to 180ºC.
Egg wash the pastry case and place in the oven to set for 1 minute. Pour in the filling and bake in the oven at 120ºC for 30 minutes, or till just cooked.
Remove from the oven and allow to cool.
To serve, sprinkle the tart with icing sugar and blowtorch the top to caramelize it.
 All in all it was a fabulous evening of foodie fun. A great venue, outstanding food from Chef Frank and his team, delicious wines and good company and conversation. And we all left with our senses indulged as well as with some new knowledge and skill.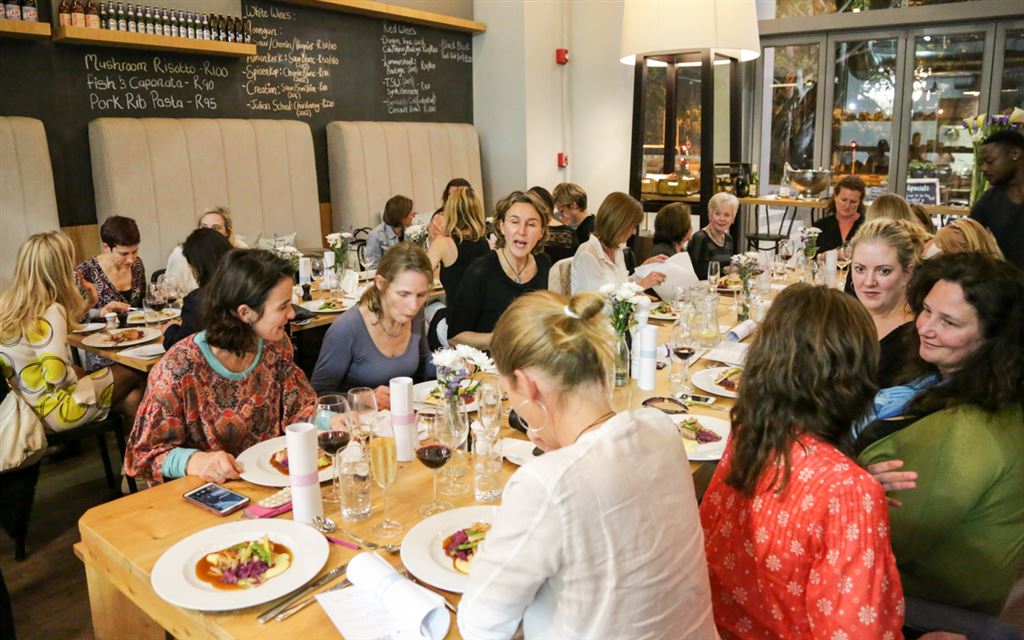 As Julia Child said…. "No one is born a great cook… one learns by doing"
Keep an eye on the sa-vour Facebook page for news of upcoming events.
Acknowledgements:
Thank you to Carol Bradley for being photographer on the night and for the awesome images
——————————————————————————————————————————————————————–
ABOUT BORAGE
Tucked away in the chic Portside Tower, Cape Town's tallest building you will fins Borage, a brasserie which offers  dining excellence to breakfast ,  lunch and dinner.
Entrepreneur Christian Vaatz and head chef Frank Marks, teamed to establish an avant-garde eatery reflecting Cape Town's innovative, multi-cultural and cosmopolitan style. Frank is a prodigy of Luke Dale-Roberts, and has refined his craft in 4 of the world's top hundred restaurants including Dinner by Heston Blumenthal.
Borage emphasises the quality of food, by bringing out the most flavour by focusing on good produce and fine-dining cooking techniques. Combined with charismatic and efficient service, we are creating a homely feel that's contemporary and welcoming.
www.borage.co.za  |+27 21 4180992  | foodie@borage.co.za