In the seventies and eighties, fondues were a highlight on the dinner party circuit. Growing up during that time, I remember my parents hosting many fondue evenings.  I used to love helping my mom chop and prepare and watch her setting up the colourful plates of food. Then there was the smell of delicious sauces bubbling on the stove.  And of course lots of warnings about the dangers of the hot oil heating up in preparation for the fondue pots.   I thought fondues were very glamorous and my sister and I would desperately hope for leftovers so that we could have our own mini fondue the next day. We would feel very grown up to be allowed to cook little pieces of steak and sausage  in the hot oil with our own coloured fondue forks and dip them into a variety of sauces. And of course the highlight would be the chocolate fondue for dessert (although typically there wasn't much of that left over).
When I moved into my own place many years later one of the treasured items I inherited was my parents fondue pot (and accompanying selection of forks).  I then bought a second pot as one was never enough.   I have many good memories of fondue dinner parties with a group of friends where we pooled our pots so that we could have a variety of oil, cheese and chocolate fondues. I have one friend who was deemed the Fondue Queen. She had fondues down to a fine art, including the very best monkey gland and mushroom sauces… and I still salivate thinking about them.
Over the years food fashions changed and my fondue pots have found their way to the very back of the top shelf of my kitchen cupboard.  It seems  though that fondues are making a bit of a comeback so I have been feeling inspired to  dust them off and host a slightly retro dinner party …as it really is a great way to share a meal with a group of friends.
And so when I received an invitation to experience the fondue offering at Isola on One & Only Island I was super excited.  Not only did it feed my fondue craving (and I always find when I taste something delicious it motivates me to do something similar at home) but it meant that I got to visit One & Only Island which is usually reserved for the exclusive use of  hotel residents.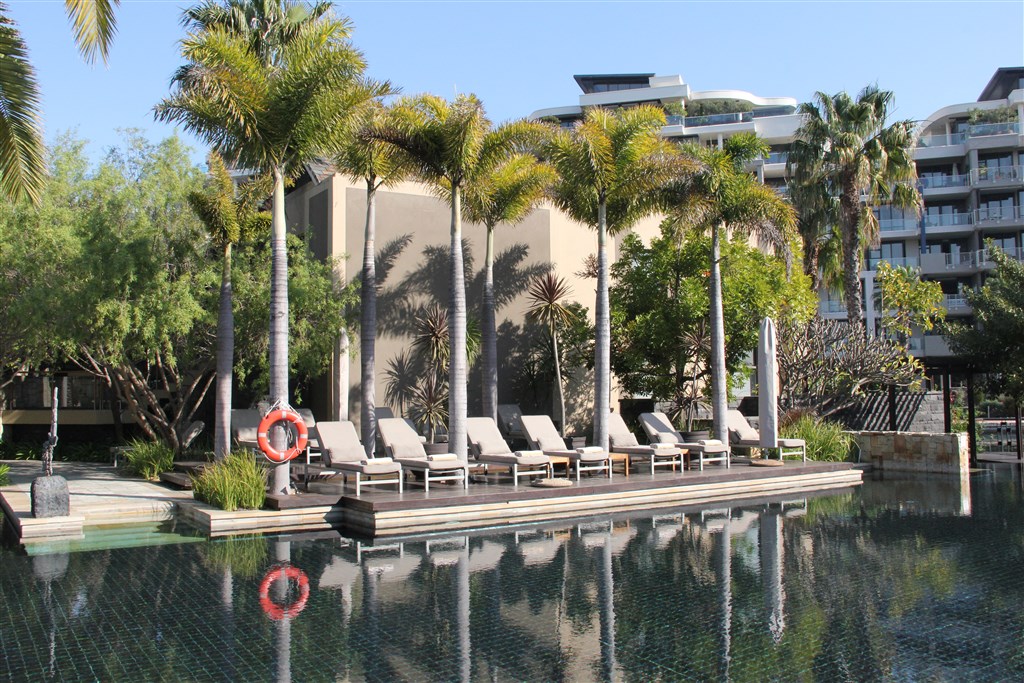 Fondues are for sharing and the fondues at Isola cater for two so it was a no brainer as to whom I would invite – my Fondue Queen Friend, Tracy. Unsurprisingly she accepted immediately and so we consulted our diaries and booked our lunch date for a Thursday.
It somehow seemed appropriate to be having a fondue on a Throwback Thursday!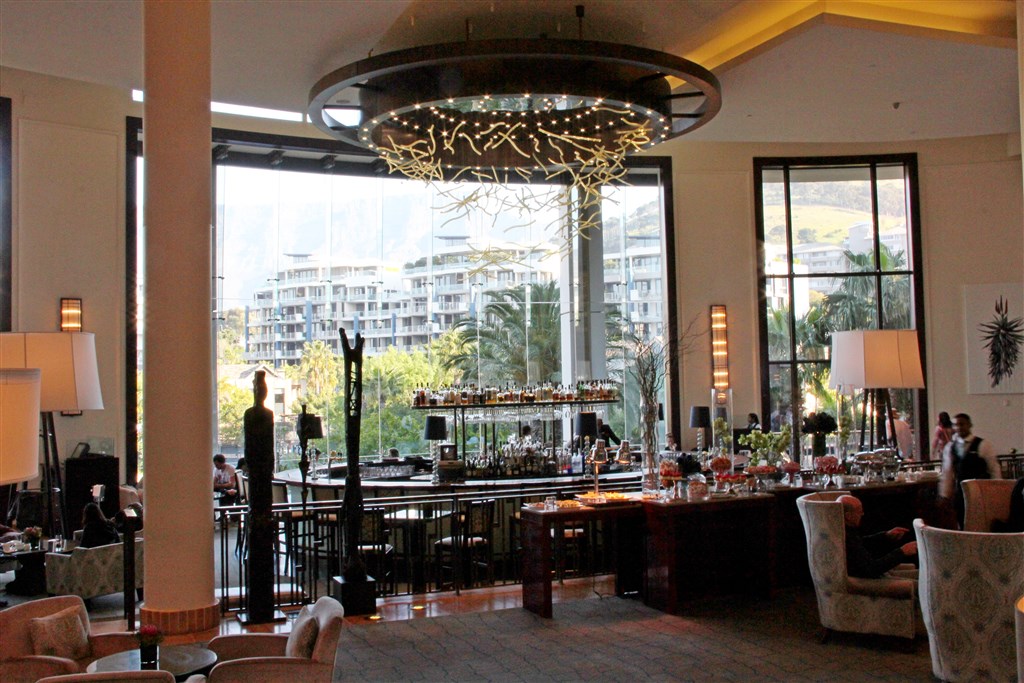 Both feeling excited , we met in the foyer of the One and Only which is always a hive of activity  To get to Isola you walk through the stunning bar area, across the bridge and past the spa and then suddenly from being in a buzzy hotel you find yourself in an oasis of tranquility.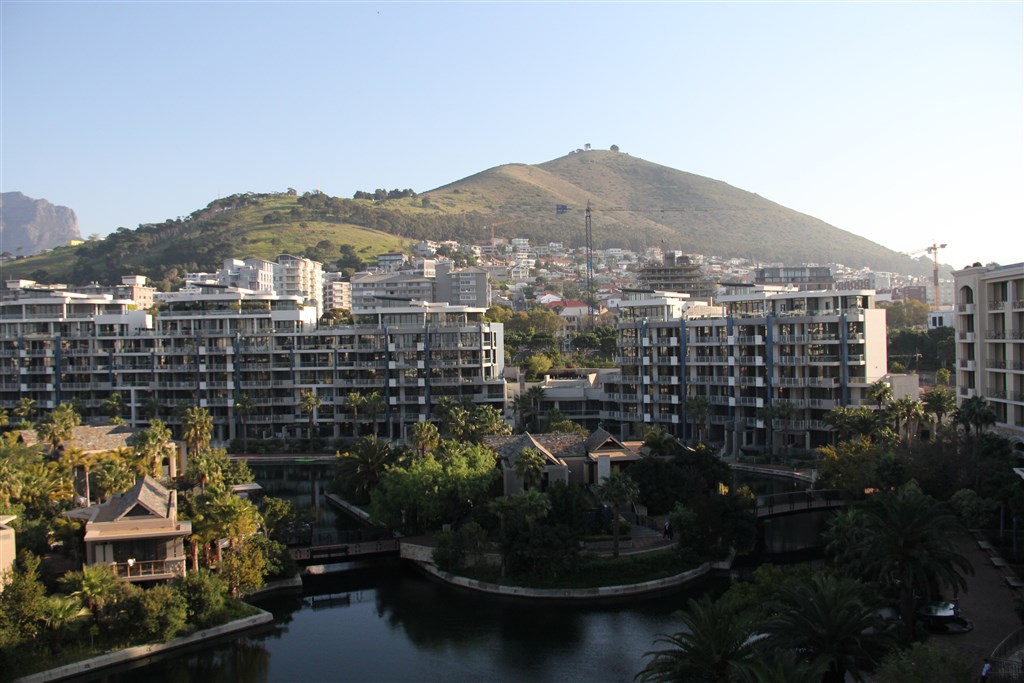 It's quite amazing as you don't feel as though you are in the City any longer. In fact you honestly do feel as though you are on an island resort. The villas are tucked behind lots of gorgeous shrubbery, and palm trees tower over the   enormous free – form infinity pool which is surrounded by inviting day beds and sun loungers. The island restaurant, Isola, is situated behind the pool. It has an outside terrace with tables at which one could happily bask in the sun on a wintry day and which in summer must just be spectacular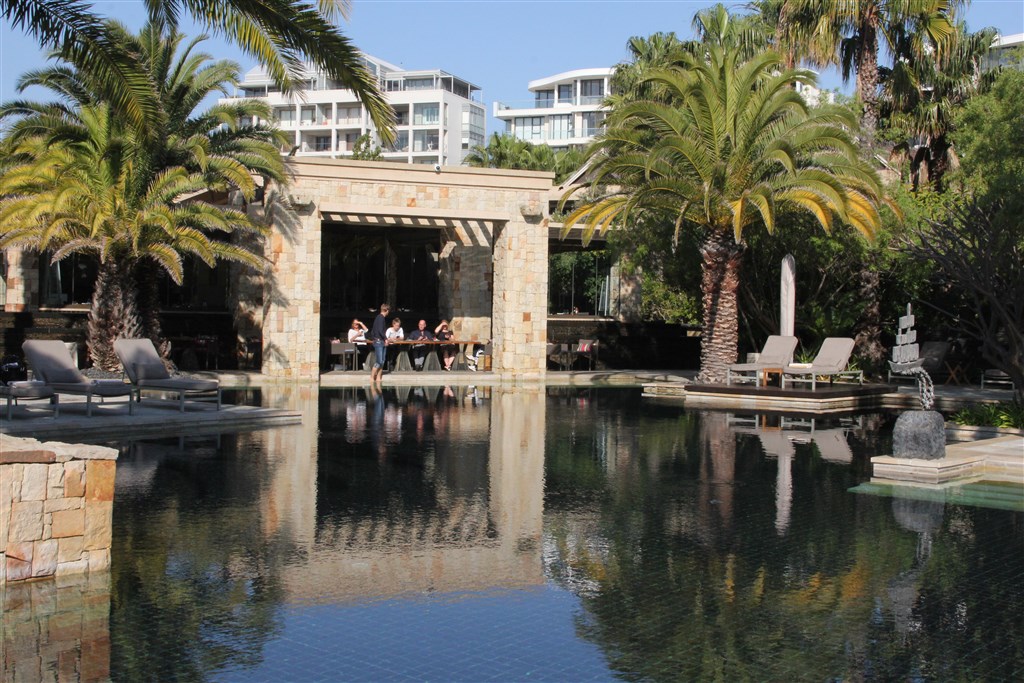 As the fondue is only served indoors so we selected a table alongside the window which was almost as good as being outdoors. Isola is chic but still casual. It is decorated with wooden tables with mosaic tops bright striped cushions and bright simple floral arrangements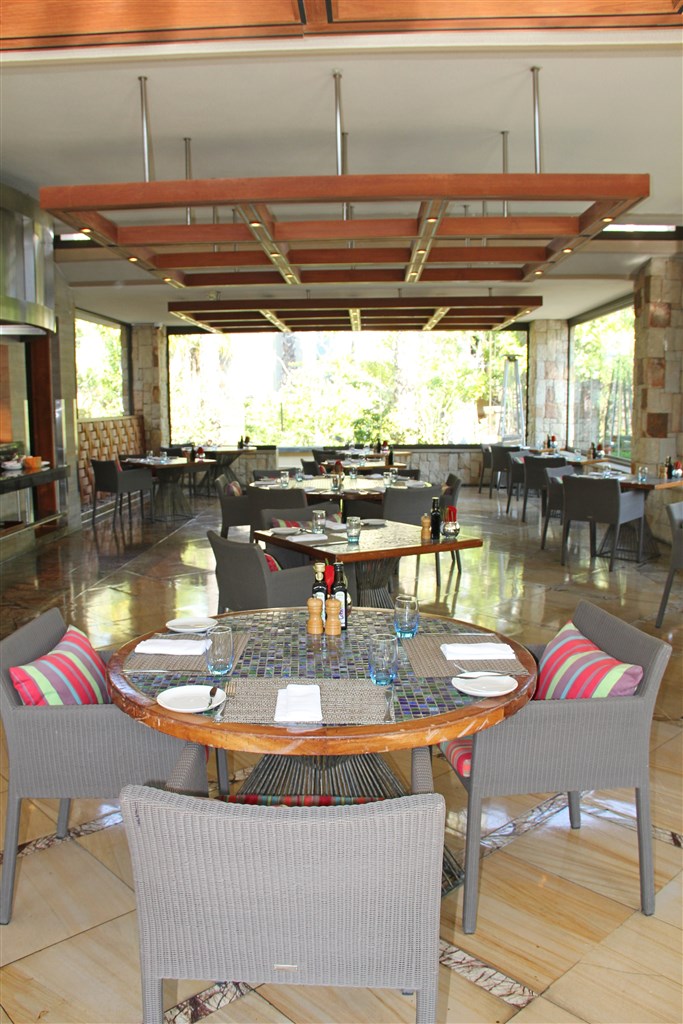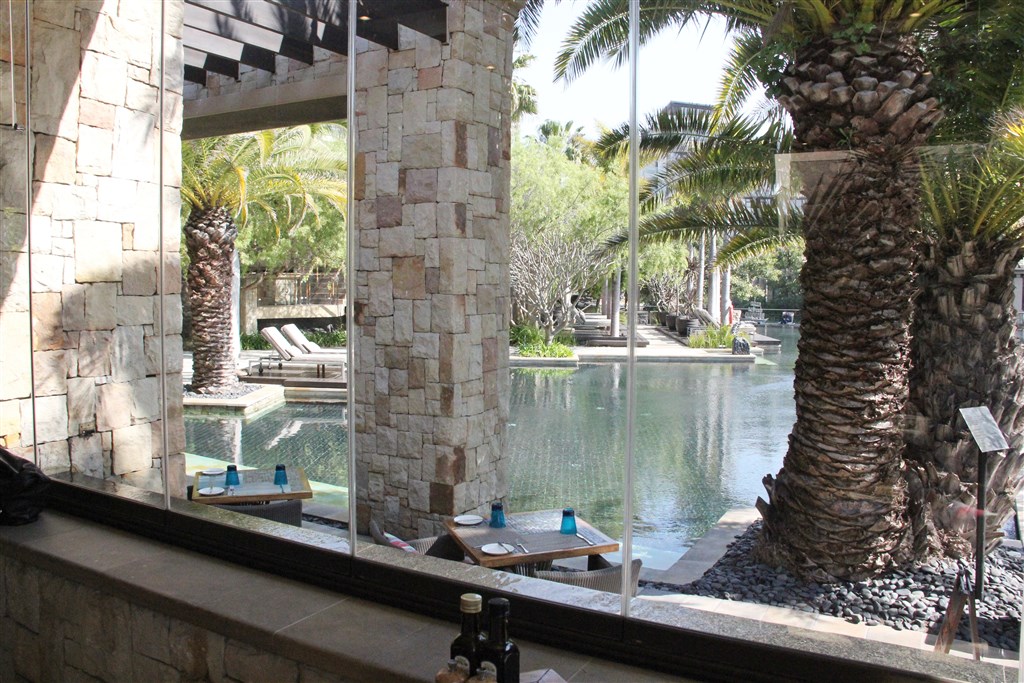 We decided that a glass of bubbly would be a good way to start our girlie lunch and ordered two glasses of perfectly chilled Graham Beck Brut as we perused the menu.  There is a selection of three fondues, meat, fish and vegetarian.  Each is suitable for two diners.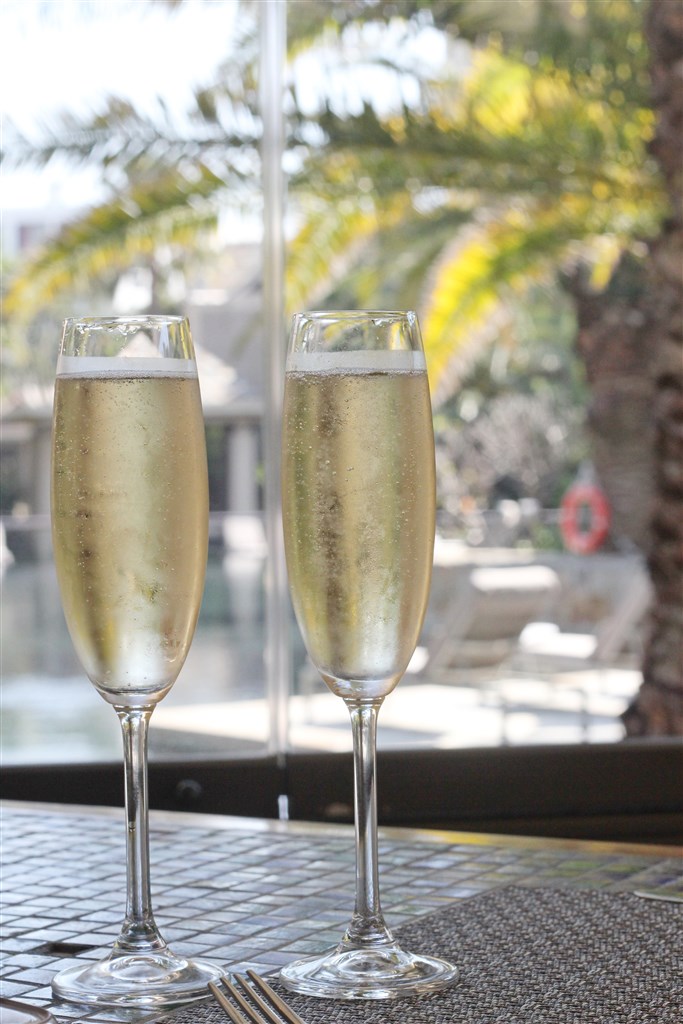 The meat fondue is R275 for two and includes two glasses of Meerlust Pinot Noir. The seafood option is R385 for two and is served with two glasses of Meerlust Chardonnay and the vegetarian fondue is R145 for two and includes two craft beers.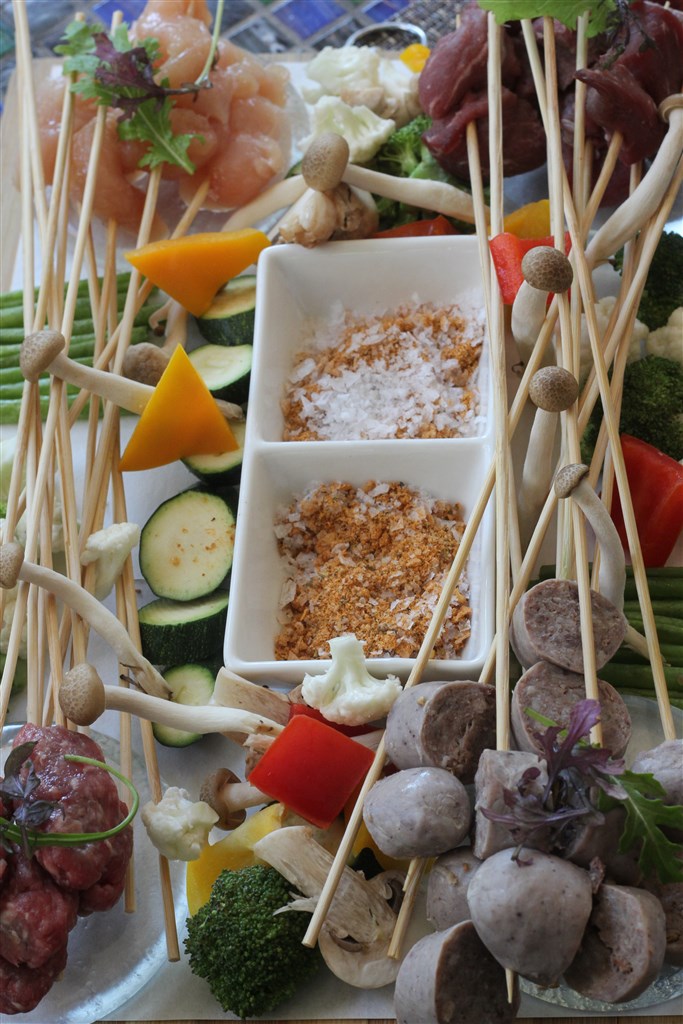 Tracy and I are both meat eaters and so opted for the meat fondue. We weren't disappointed!  A sizzling pot if oil arrived at our table along with a platter bearing an array  of locally sourced beef fillet, kudu sausage, lamb kofta, chicken strips as well as a selection of seasonal veggies.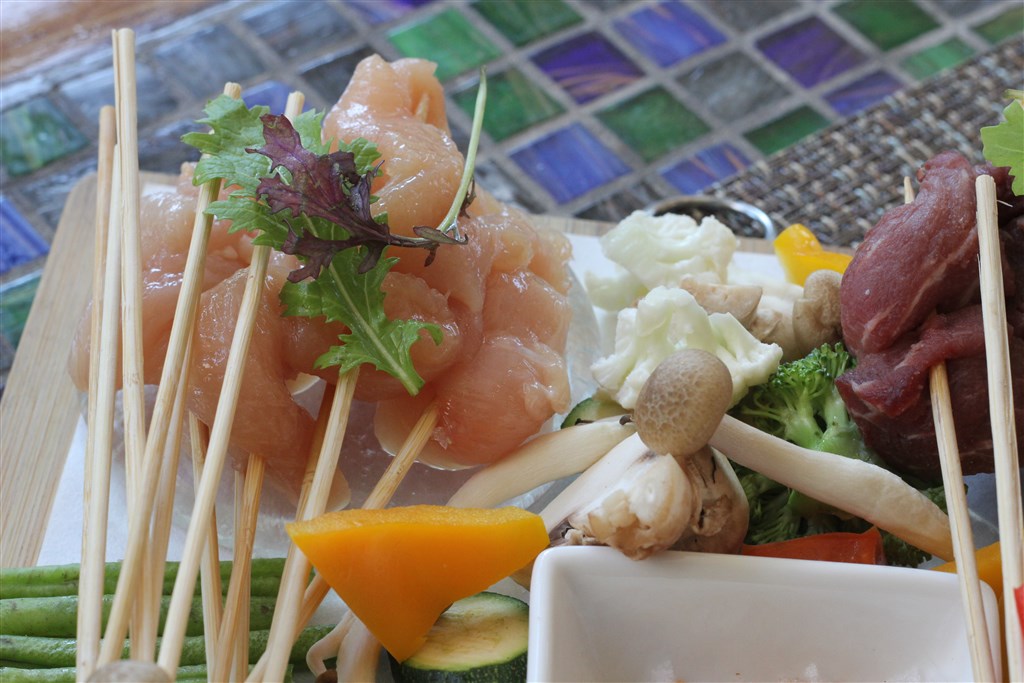 There was also a basket of delicious bread chunks and a selection of homemade seasoned salts, a mustard cheese sauce and a rich tomato sauce for dipping.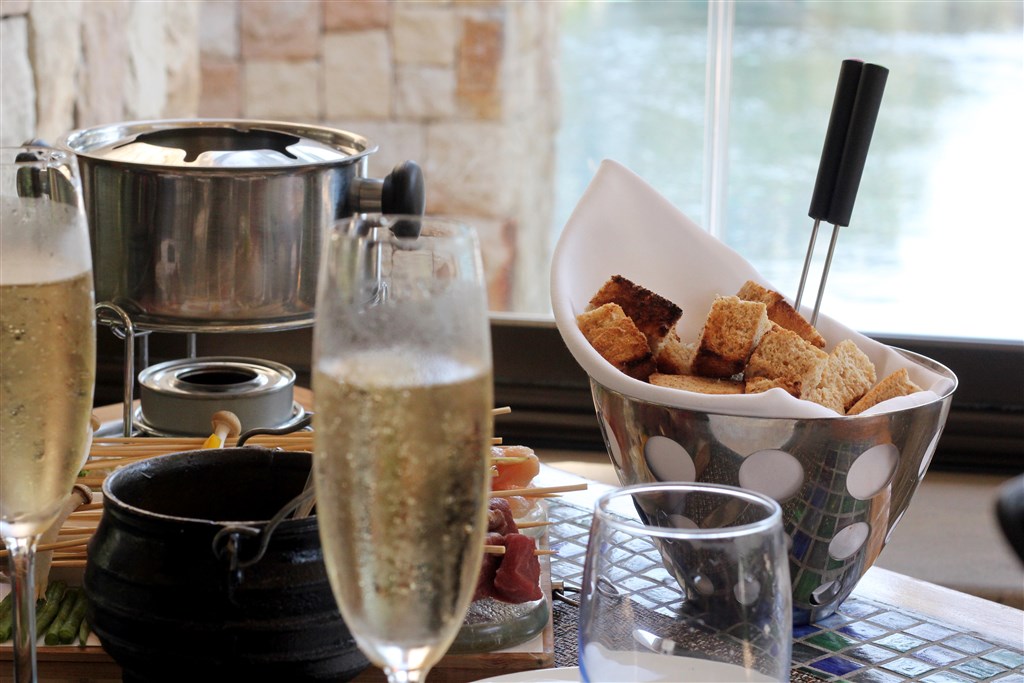 It was a difficult choice to decide which meaty morsel to stab and dip first… I opted for a piece of fillet and a mushroom and Tracy for the lamb kofta. That first bite of perfectly cooked meat swirled in the cheesy sauce was heavenly! The beauty of having only two people sharing a fondue pot means that you constantly have something cooking and another bite to look forward to.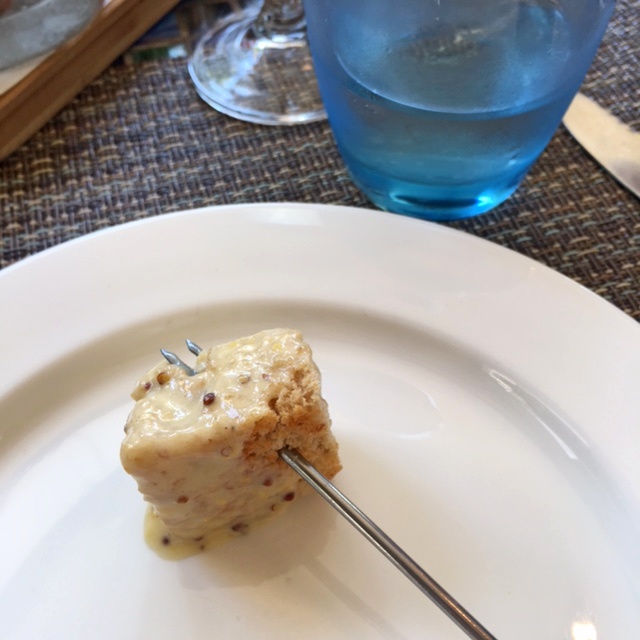 Everything was delicious … our favourites were the sausage and the kofta – just because they were different. The cheese sauce was fabulous … with the mustard adding a rich depth to the flavor.  The bread and the veggies added a lighter touch to all the meat.  Just because I like variety I would perhaps have added a third sauce and served smaller portions of each.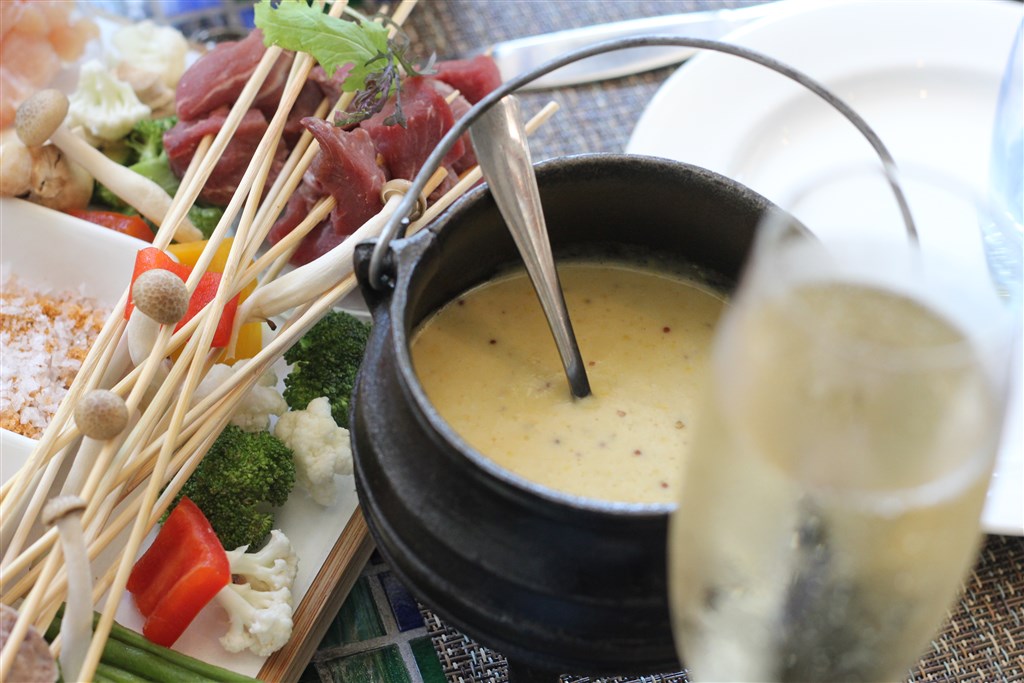 What is so great about a fondue is that the eating experience is extended … you can take a break and then start again. All you need to make sure of is that your oil is kept hot. Tracy and I had lots of catching up to do and so we leisurely sipped our wine, chatted and ate. When our oil cooled down the staff were at the ready to bring another bubbling pot!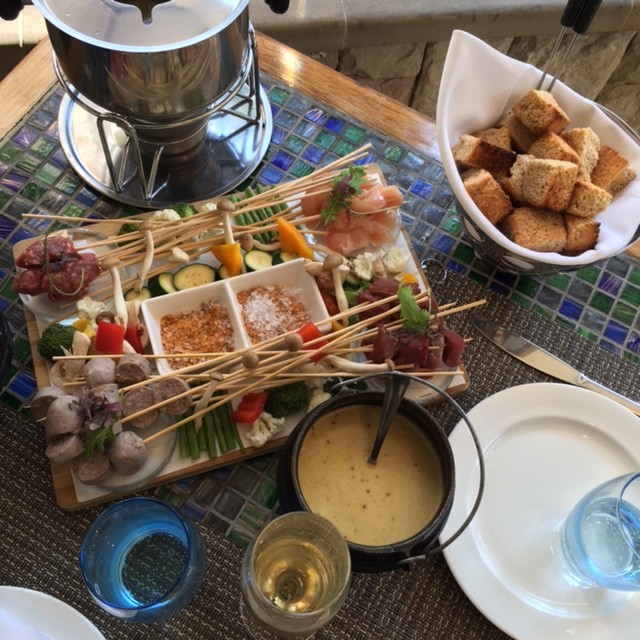 The portions are generous … we almost managed to finish our platter – although not quite – as we decided to save space for dessert as a wintry fondue experience would be incomplete without chocolate.
The traditional Swiss fondue (R155 for two) includes pink and white marshmallows, strawberries, nougat, biscotti, brownies and churros to dip into the rich chocolate which is served in a gorgeous heart shaped fondue pot.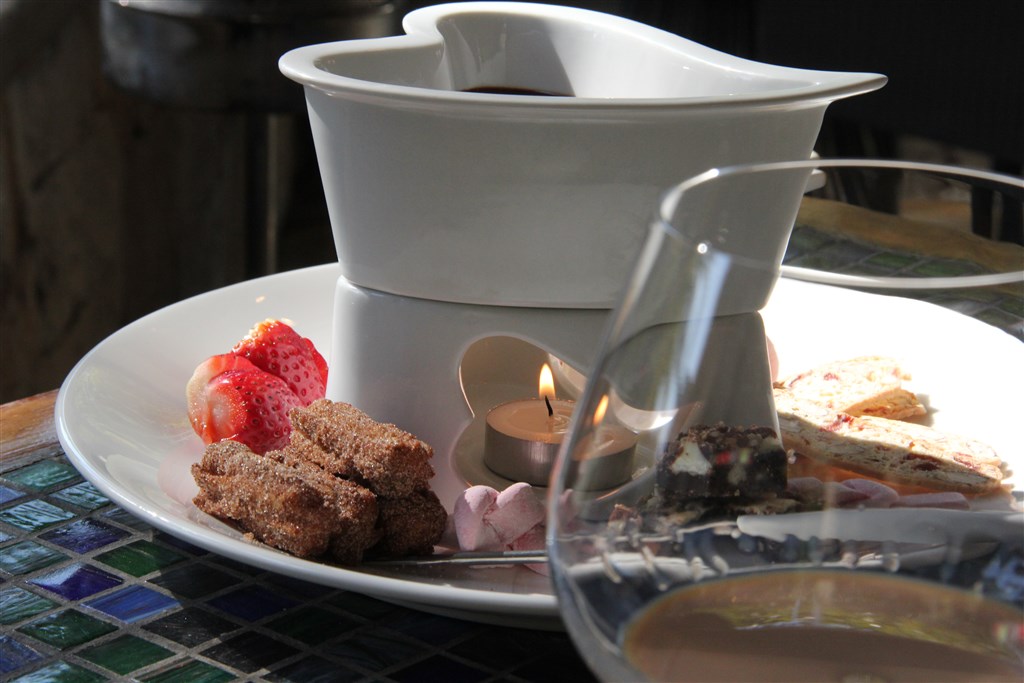 Each bite was more delicious than the next … our top two were the churros and the nougat….and the chocolate brownies were scrumptious just on their own. To add to the decadence, the chocolate fondue is served with two glasses of Amarula! So deliciously indulgent for a weekday afternoon!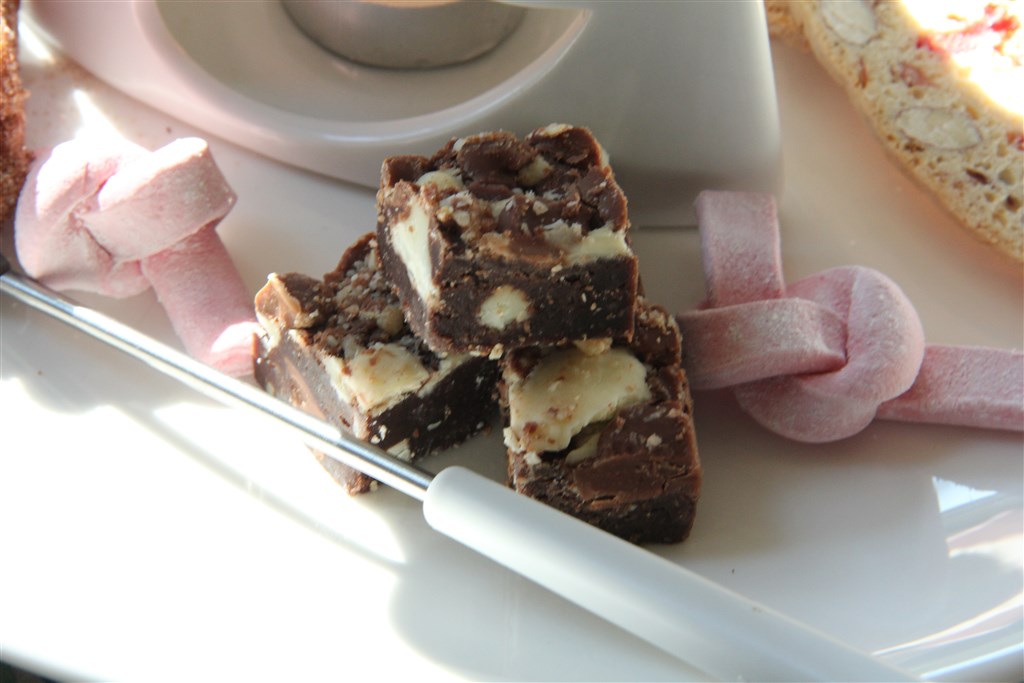 As an alternative to the chocolate fondue, the head pastry chef Kyle Hickman has elevated hot chocolate to another level. Guests can opt for a Spiced Dark or Caramel White hot chocolate served with fragrant cinnamon churros (R6o). If you want to add some punch you can order a tot of South African brandy or award winning Bain's Single Grain South African whiskey for an additional R75.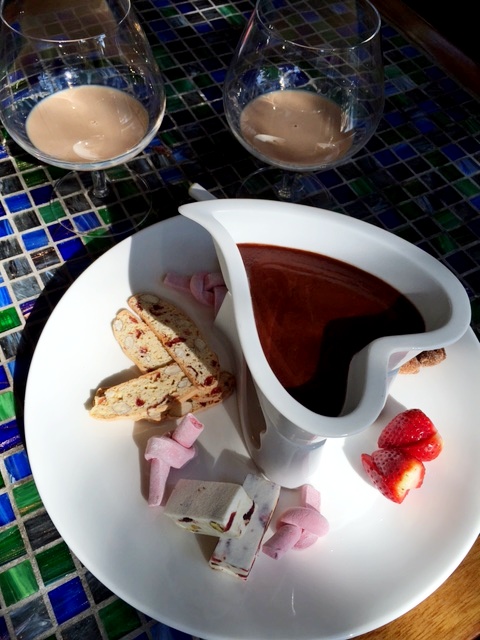 The One and Only fondue is definitely something to try for a lunch tete a tete, an afternoon tea or even a post spa treat.
Guests at the table alongside ours had ordered the seafood fondue which looked fabulous. Norwegian salmon cubes, prawns, white fish, crayfish, mussels, oysters veggies and bread with a lemon cheese sauce and a tomato sauce.  Think I'm trying that next time.
As we left Isola, the winter sun was still warm, its rays reflecting on the sparkling pool It was so quiet and peaceful and the daybeds (perfect for a post lunch siesta) were calling!  As tempting as they were, we still had lots of catching up to do and so we opted for another glass of wine to end off the afternoon instead.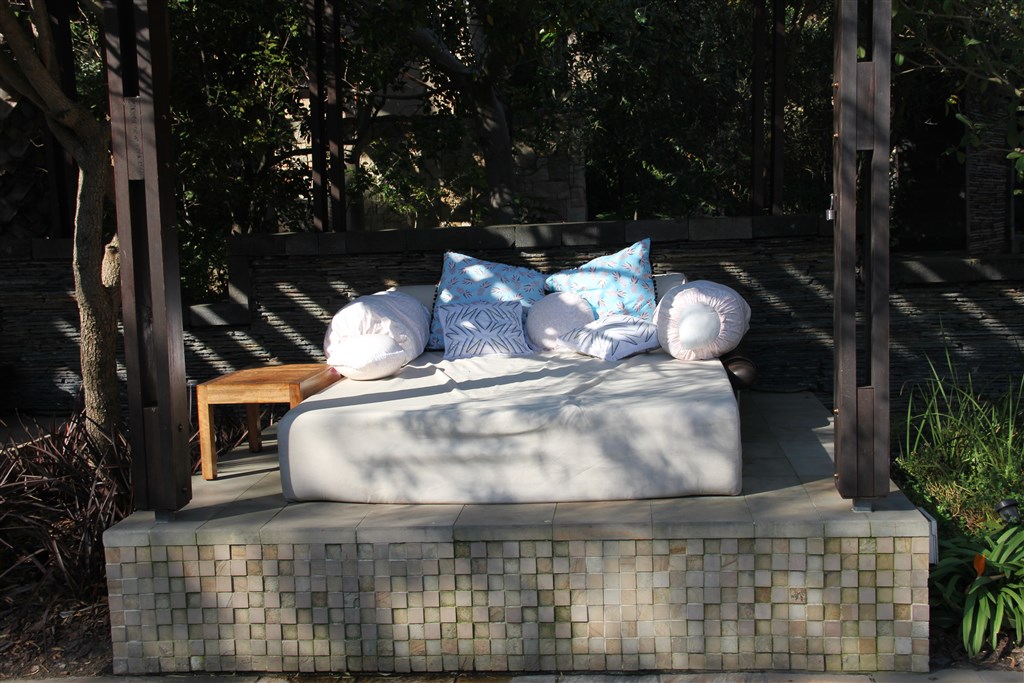 What a treat for the middle of the week.  A beautiful setting, good food and wine the company of a long time friend  and an opportunity to reminisce on our fondue days! I really felt as though I had left the real world for a few hours….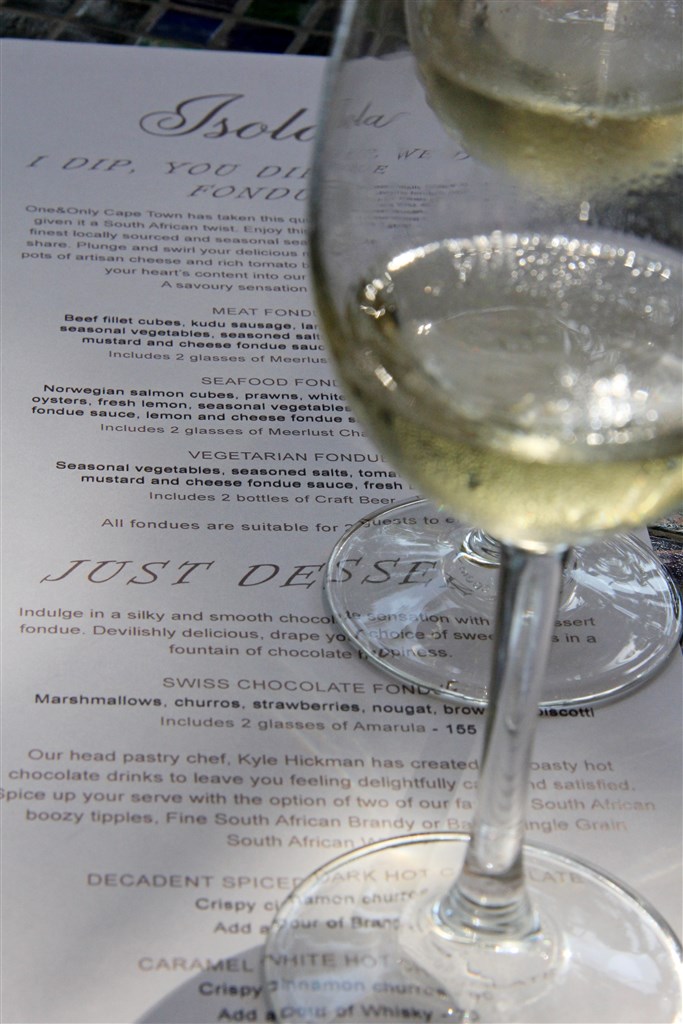 The fondues are available daily from twelve until four and will be on offer until the end of September. So if you are in need of an escape to an inner city little piece of paradise and you want to experience a fabulous fondue head for Isola. You won't be disappointed.