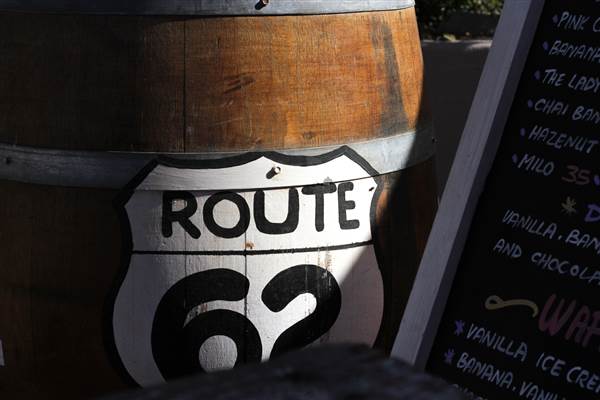 I am spoilt living in Cape Town, as we have so much available to us right on our doorsteps There are very few places where you have the beach, mountains, forest, winelands, city centre and so much more all within 45 minutes of your front door. The risk is that one can get a little lazy and not feel the need to venture too far out of one's comfort zone. But a change of scenery is as good as a holiday (so they say) and as a holiday is not on the cards for me right now … we decided to do a mini road trip. I was a little skeptical I have to be honest, as I can get a bit antsy spending long periods in a car… but I decided to go with the flow. Departure time was scheduled for 7am. Now I am a morning person, but even for me that is early on a wintry and dark Sunday…  so I wasn't bouncing out of my warm and cozy bed. Fortunately even in the dark it was promising to be a lovely day.
We were a little late in setting off, and by that stage all three of us were feeling in slightly desperate need of that first cup of coffee. The only challenge was that we were already in the car, no-one had thought to pack a flask and there is not a whole lot open in the City before eight am on a Sunday. Suggestion – McDonalds….
"Not so sure"…. Said the Foodie and Coffee snob. But what choice did I have?
If you are going to the Big M, the Green Point branch is probably one of the nicer ones … and they do have a McCafe.  Not quite Truth quality coffee but not all bad.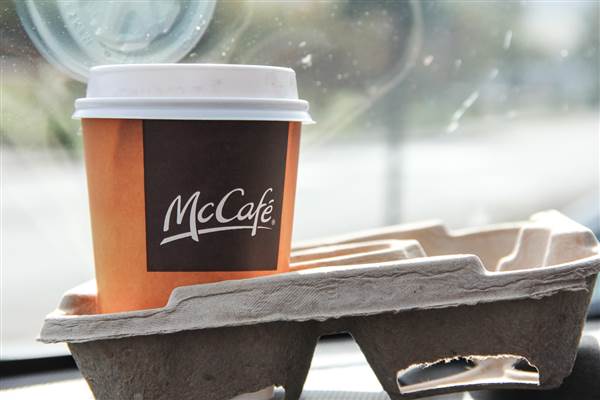 Feeling more awake and sociable we started our trip. It was a beautiful autumn day, the road was fairly quiet, the company  was good as was the conversation  and there was a great playlist to listen to… We headed out on the N2 towards Elgin and our first stop was Peregrine farm stall. I have always liked Peregrine as a stop on the way out of or back into Cape Town, as it allows you to stretch your legs whilst perusing all the wonderful goodies on offer in the shop. I have to admit I don't think I have ever walked out of there without buying SOMETHING. Not sure when you were last there, but they have done some great renovations and now have a really spacious. light, airy restaurant and coffee shop.  We settled in and I was more than ready for a proper Flat White!  Origin coffee is on offer and there is a very tempting breakfast menu (the lunch menu also looks yummy if you are stopping off later in the day). Two of us opted for The Peregrine Poach…   The portions were generous to the point that we could have shared. Our driver went for the The Tractor Mechanic (savoury mince, fried egg and roasted tomatoes on sourdough) . It did look good…
Our bellies satisfied we took a stroll around the farm stall ( no I did not leave empty handed) and then were ready for the next leg.  My kind of road trip involves  plenty of stops. This breaks the journey and makes it interesting. For me it's important to have some kind of a plan (else you can end up hungry and irritable if nowhere to stop to be fed and watered en route). But it's also good to still be flexible, so that if you come across somewhere unexpected you can and do stop.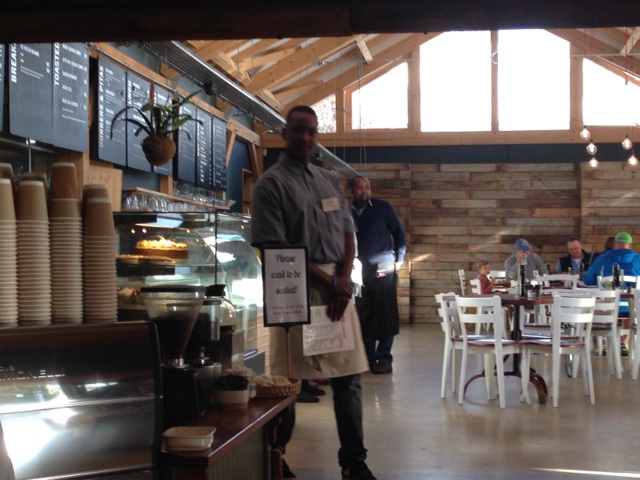 Our next stop was Swellendam. I haven't been there in quite a while and have to admit was somewhat disappointed that we were only making a quick stop and I couldn't properly check out the gorgeous guesthouses and restaurants on offer.  We did however take some time to have a drive and a look around and it's definitely somewhere to go back to.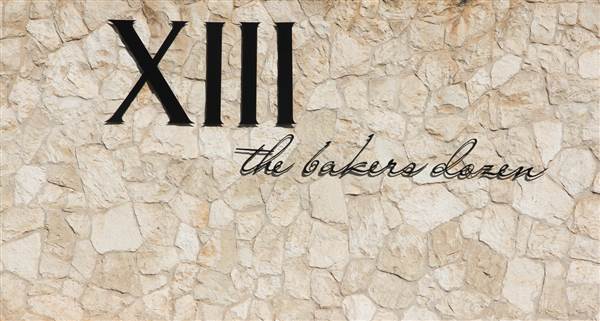 Our planned destination in Swellendam was Tredici (which means Bakers Dozen in Italian) which is a little treasure in the heart of the Overberg. A gorgeous patisserie, boulangerie, delicatessen and ristorante all in one!  Their story is sumptuous simplicity and their philosophy is to offer more than you would expect as Bakers did way back in the 13th Century by giving thirteen loaves instead of twelve. Sitting down inside the lovely space I was further disappointed that we had already had breakfast and were too early for lunch, as their menu was incredibly enticing. We couldn't not tantalise our taste buds however, so we indulged in some of the home baked pastries to go with our third cup of coffee for the day. This time delicious De Luxe coffee.
We shared a mille feuille, pastei de nata and one of the best chocolate chip cookies I have ever had!
There is also a very tempting selection of kitchen and foodie items for sale … I managed to restrain myself however and just oohed and aahed instead. Back in the car and headed for our endpoint … Barrydale via the Tradoux pass and the little village of Suurbraak.  This is what a road trip is all about… the incredible scenery that you drive through and the discovering or rediscovering of the little hidden and unknown gems along the way. Just so much to take in and appreciate!
Barrydale is definitely on the up, and Diesel and Crème is a must-do on Route 62. I had heard lots about this vintage diner and was eager to see it for myself.  It was definitely worth the drive. We hadn't booked (could have been a serious problem) but we were fortunate to get a table outside in the sun. It's a feast for the senses. The décor is amazing … you almost can't take it all in, there was a colourful local band playing, plenty of people watching opportunities, and a great menu of burgers and other country fare and then of course their gourmet milkshakes are legendary.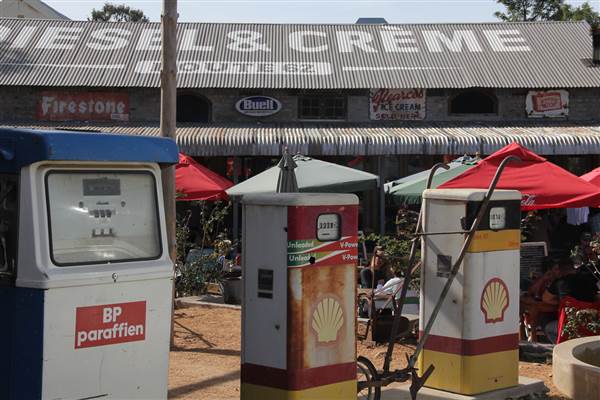 We were ready for a glass of wine and a beer by this stage… so started with those before tucking into a Jack Daniels and a Diesel burger.
Despite being very full we couldn't leave without sampling the milkshakes. After much debating and negotiating we settled for the Banana and Custard and Honey Crunchie. Wow…. Totally decadent and delicious. Thank goodness we ordered the small size … served in jam jars with broad colourful straws (you need them as the shakes are so thick) they are yummy. I felt like a kid in a candy store…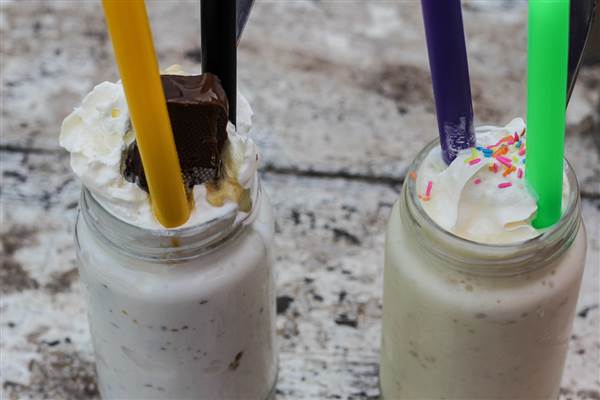 We were very tempted to sit in the chairs and watch the passing trade, but alas we had to get home so it was back in the car. There is a motel alongside Diesel and Crème called Karoo Moon Hotel. Perhaps an overnight stay next time?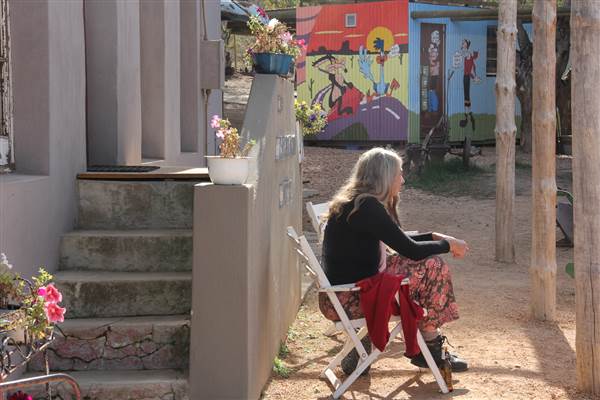 I asked the fabulous staff at Diesel and Crème to share one of their favourite milkshake recipes with me. Enjoy! Peppermint Crisp Milkshake (this is their newest addition so hot off the press) What you need (makes 500ml) a few drops of Peppermint extract 1 Peppermint crisp chocolate broken up 5 big scoops of good quality vanilla ice cream What to do Mix all the ingredients  together (keep a little bit of the crushed choc ) . Serve in a lovely glass or even a glass jar topped  with a blob of whipped cream and sprinkled the remainder of the peppermint crisp chocolate.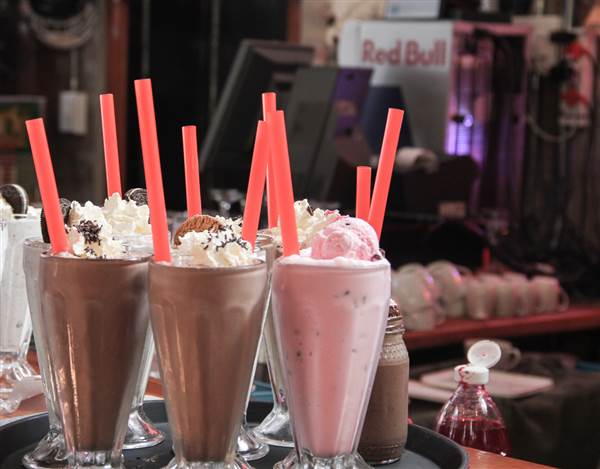 We headed back to CT via the N1. Another good idea for a road trip is to have a circular route. More places to stop and different scenery. One of the things on my Bucket List is to visit the States in October/ November months to see The Fall. Hopefully I will get to tick this off sometime in the future. But I have to say that one forgets just how beautiful our autumn leaves are in the Cape. Driving back via Montagu and Robertson the vines are the most beautiful hues of red and gold ……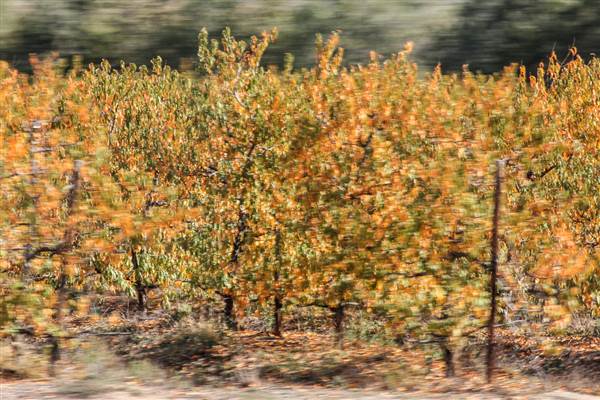 Final stop was The Farm stall in Robertson.  We couldn't manage another thing to eat or drink but we could shop! I stocked up on some wine and am now kicking myself that I didn't buy more. They had a specials bin where I picked up some local Sauvignon Blancs that had earned Double Gold medals for R35 per bottle. Really! Now at that price why didn't I buy a case I ask myself now, because they are delicious Aan De Doorns and La Bonne Vigne If you find these… buy them! I also was delighted to find a leather flyswatter… weird I know but I have unsuccessfully searched high and low in Cape Town for a swatter to deal with those random but irritating flies. Another reason to go on a road trip! Then it was the final haul homeward…. A full day of indulging all our senses and we were still back in Cape Town in time to enjoy a magnificent sunset. What a truly lovely way to spend a day … I am a road trip convert and am now planning the next one.